How to Address a Package for Shipping (USPS, FedEx, UPS)
Shipping a package can be a bit confusing. Once you've figured out how to properly pack and weigh everything, you'll want to ensure you've written the destination address on a package or parcel in the proper format so that the mail carrier delivers it correctly. Well, if you know how to address an envelope for mailing, you're in luck! Addressing a package is very similar to addressing an envelope.
You need a return address, a destination address, and postage when addressing a package for shipping. The addresses are in blocks of text located in the same positions as you'd find on a mail envelope. This is particularly true when shipping through the United States Postal Service (USPS). Other carriers like FedEx and UPS rely more on computer printed labels address on them and less on hand written ones.
We'll go over how to accomplish properly addressing packages when you are shipping via USPS, UPS, or FedEx.
The easiest way to create shipping labels is by creating an account on Shippo. You can get discount postage and print shipping labels for all the major carriers from Shippo's interface.
USPS
Addressing a package for shipment via USPS is pretty straight forward. You can either hand write the destination and return address directly on the box, or you can use a label or printed piece of paper taped to the face of the box.
Hand written addresses
If you decided to hand write the mailing and return address on your package, you'll first find a clean face of the box. You'll need an area that ensures your writing will be clearly legible. Make it as easy as possible for your mail carrier to read the address so that it doesn't get mis-delivered.
The area should also be large enough so that both the sender and recipient address can fit on the same face of the box.
Write the destination address toward the center bottom of the face of the box. You'll want to leave enough room for the return address which will go on the center of the box face.
If you are hand writing the addresses, use a dark colored permanent marker so that it is easy to read and won't wipe off.
You'll then want to write your address (the sender's address) on the upper -left corner of the face of the box.
Use the recipient's full name
Write everything in capital letters so it is consistent and easy to read.
Do not use commas or periods.
Include the ZIP+4® Code whenever possible.
Each address should have separate lines for:
The recipient's full name
Full Street address and apartment or suite number, if applicable
City, State, and ZIP+4 Code
If the apartment or suite number cannot fit on the street address line, place it on it's own line above the city, state, and ZIP code. You can also use business abbreviations or unit abbreviations if you need to conserve space if necessary.
Printed Labels and Paying for postage
There are multiple ways to pay for USPS postage for your parcel. You can take the package to your post office and have the post office employee calculate the cost of the postage for you. You can then buy the postage from them.
If you don't want to wait in line at the post office, you can go to a self-service kiosk found in many post offices. They are also known as APCs or Automated Postal centers. You can weigh and measure your package at the machine as well as buy postage with your credit or debit card.
To skip going to the post office completely you can utilize USPS' Click-N-Ship. Register for an account and it will let you buy labels directly from the USPS. With this method, you will not have to hand write the address on the package as the address will already be on the label you purchase. If you have a PayPal account, you can print USPS labels from there. Shippo also allow you to print labels online. With Shippo, you can get steep discounts of up to 80%. It will also let you print from multiple carriers, like UPS, USPS, and FedEx, all from a single interface.
Once you have the label printed, just attach it to your package. You can do this with any printer and clear shipping tape, or a dedicated label printer.
You can request your mail carrier to pick up your parcel, or you can drop it off at any post office.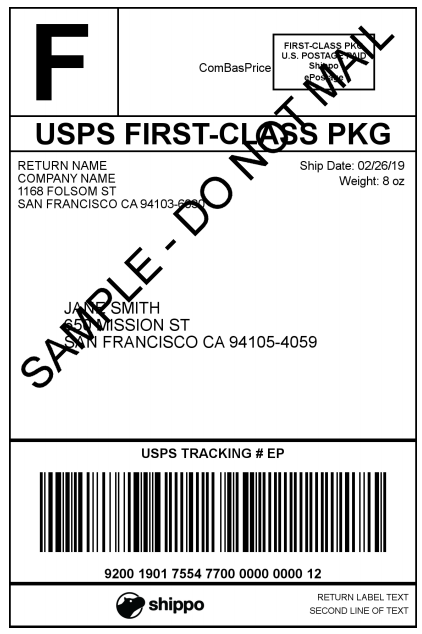 A less popular option is to use use stamps, which is rather cumbersome as you'll still have to calculate the cost of postage and count out the correct number of stamps. This method could be useful if you have a large number of unused stamps lying around.
UPS, FedEx, and DHL
The private carriers like DHL, UPS and FedEx are all moving to pre-printed labels. If you take your package to a UPS or FedEx store, they will often have you hand write your shipping address on to a waybill form. An employee will then take that form and type into their computer the information you wrote down and provide you with some pricing options.
To skip the extra step of filling out a waybill form, you can open up online accounts with all the major carriers. You can purchase all the necessary shipping labels from your home and just drop off the packages once you've attached the postage. You can often get better pricing on postage online.
Similar with the USPS option, you can buy and print labels for UPS, FedEx, and DHL from Shippo.