Getting the lowest cost shipping
Updated:
•
Published:
•
10 min read
We list some ways to get significant savings on your postage and supplies, all without having to ship large volumes or negotiate rates with your carrier.

The best bang for your buck is generally USPS. Not only are they usually the least expensive shipping option within the United States, it takes very little effort to get discounts on USPS postage. You just need to sign up for some shipping software. Many services are authorized to sell USPS postage, and they often provide the discounted Commercial Rate. Look for one that doesn't charge you a monthly fee if you don't ship often. To get discounted rates, you'll need an account at an online service that lets you purchase postage through the computer (you pay the most in-person at the post office counter). Here are a few easy options to get cheaper USPS shipping labels without needing to ship in high volumes:
Shippo is one of the best ways to get discounted USPS rates because you can use their service for free, and if you sign up through this link, you can get the Pro plan, free for 3 months (up to $600 in value). The Pro plan allows branded packing slips, shipping notifications & tracking pages and no per label fee, you just pay for postage (it is normally 5 cents on their free tier). You'll be getting USPS Commercial Rates which can save up to 90% on postage costs. Shippo provides an easy to use web interface for you to manually create shipping labels. It also integrates with e-commerce platforms, like Shopify, Amazon, and Etsy, so that you can easily process hundreds of orders at once. Shippo also provides discounted UPS and FedEx so that you can choose the the cheapest shipping option. Sign up here.

If you only ship occasionally, like during the Christmas season, having an account with no monthly fee is ideal. You get discounted postage that you can print with your own printer, all with just the cost of postage. You can also easily upload a CSV file to buy labels in batch. It's a powerful service that anyone can sign up to and use. You don't need to have a company to sign up.

Skip going to the post office entirely by scheduling a free pickup from USPS after you've packed your shipment.

Other shipping software that includes discounted USPS rates include:

Stamps.com: Sign Up and get a special postage offer of $100 value at Stamps.com! Use Code STAMPS100
ShippingEasy: Also provides a free tier. There are no monthly fees if you ship 25 packages or less per month.
EasyShip: Includes DHL discount. Good for those who ship internationally.
ShipStation: Great for e-commerce or small business owners.

USPS Click-and-Ship offers discounts on Express Mail service, Priority Mail service, and flat-rate shipping, however you are not able to print First-Class postage from Click-and-Ship. You'll be able to skip the lines at the post office, but you'll only be saving a few cents. The discounts will not be as steep as if you bought postage through shipping software such as ShippingEasy, which can be as much as 80% off retail prices.

If you ship exclusively with USPS, take a look at the USPS Loyalty Program (pdf). For every $500 spent using Click-N-Ship, you can earn $40 in credit with additional credit tiers the more you spend. Click-N-Ship is targeted at small businesses that has decent volume, though you'd want to weigh it against the price of using a service that provides you with commercial rates like ShippingEasy. A business user that spends $20,000 on Priority Mail and Priority Mail Express labels in the prior calendar year is eligible for Commercial Pricing, but this is something already included with ShippingEasy as soon as you sign up. No need to have a history of shipping with ShippingEasy, so this makes the USPS promotion a little less attractive.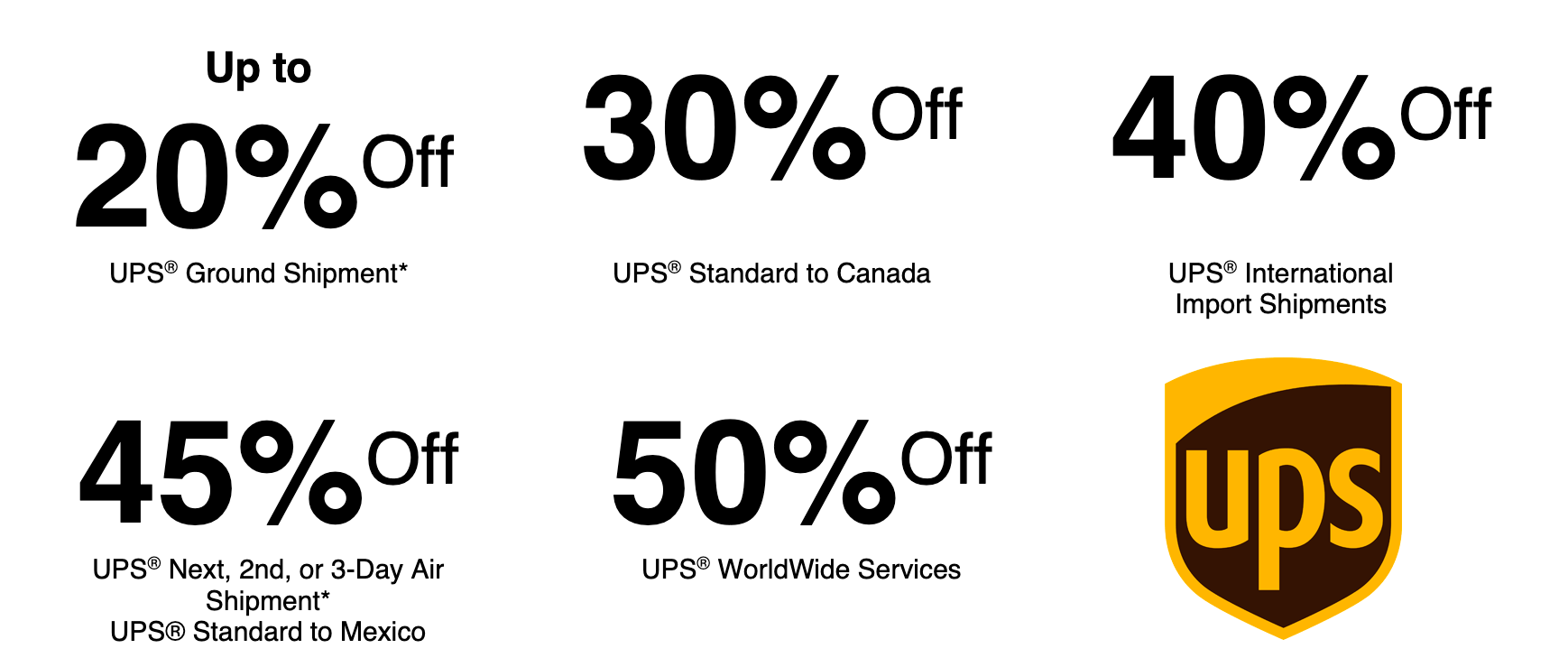 FedEx and UPS discount rates can be applied to your account if you ship enough volume. You just need to call a representative that services your region and negotiate a bit. However, if you are just starting your business or if you only ship out packages occasionally, like only during the holiday season, we've got some good options that let you get discounts by applying online, or simply signing up: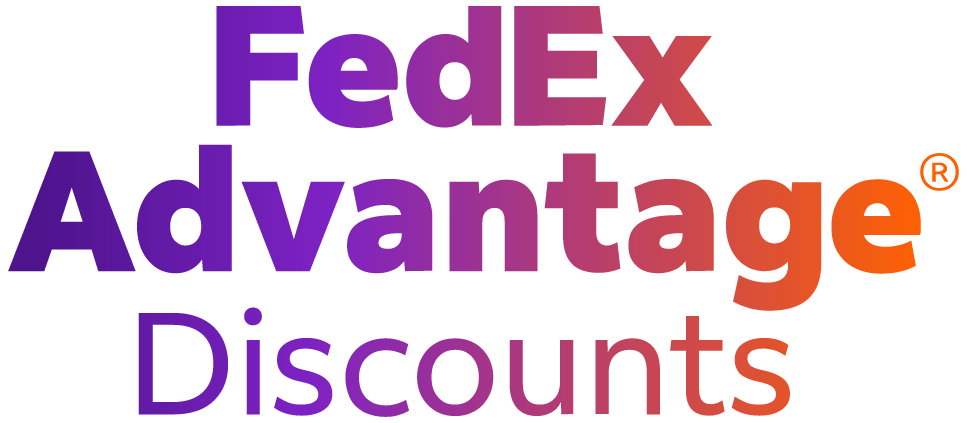 FedEx has a variety of ways to save. They partner with a variety of other companies so it may take a bit of research to find the best deal that you qualify for.
FedEx is offering good discounts just for signing up to their online account. You'll get up to 30% off FedEx Express package services. You can get this discount by simply creating an account on their site, but to get steeper discounts you can take the additional steps below.
Shippo provides FedEx discounts through their FedEx Platform Account as well as their FedEx Advantage program. Sign up to access the discounts and get 3 free months of Shippo's Pro plan.

FedEx Advantage Program. Enroll in the FedEx Advantage program to get savings of up to 50% off Express shipping

Open up a few FedEx accounts and compare them both in your shipping software for the best price!

American Express offers. With your American Express Business Card, you can get discounts every time you pay for your FedEx shipment. Be sure to take advantage of all the Amex and FedEx offers by visiting this page and linking your American Express card to your FedEx account.

Currently, the American Express Business Platinum card offers 45% back on FedEx Shipments and 30% back on FedEx Freight, up to a total of $1200. The current offer expires 31 December 2023, but may be extended. See their offers below

The "More Savings" Program. Smaller savings than the FedEx Advantage offers. It requires you to use FedEx Ship Manager or approved FedEx electronic shipping solution.

Look for shipping software that offers a FedEx Platform account. These offer discounts different from FedEx Advantage. Customers will have access to: FedEx Ground Economy (FGE), FedEx Ground Returns, and FedEx International Connect Plus (FICP).

There are many courier services in operation, but it can be difficult to figure out which one to use. They often specialize in specific regions or destinations, and may not cover shipping across the whole United States. This makes it difficult to find the one that will best serve your needs, Sendle is looking to solve this.
Free Premium Sendle account: Get a free premium account with this link when you sign up as a business!
Sendle is a new service that taps into their large delivery network of shipping providers and handles getting you the best price with the best courier. They also utilize other shipping services including the USPS. However, their biggest selling point is their service is 100% carbon neutral.
They have pricing starting as low as $3.59. Online Shipping Calculator has worked with Sendle to provide our readers a free Premium account. You'll be able to get their discounted prices when you sign up as a business. You will not to send any minimums number of packages and there are no monthly fees. Usually, their Premium account requires you send 20 packages a month, but signing up through our link with a business name will let you bypass that requirement. You can sign up here.
Your local shipping center may be offering a deal through Yelp.com. Buying a deal through Yelp will get you a voucher that you can then use in-store. Discounts vary by location. Shipping prices will also vary wildly as some shipping and mailbox centers will add their own service fees on top of carrier fees, so you may not always be getting the best deal especially if you compare it with online prices. These deals may help you save on packaging or void fill though. The screenshot below shows the results of the search "shipping centers" after a filter is applied to only show locations that are offering a deal. Select the "Offering a Deal" filter to display the shipping stores offering vouchers. You may have to scroll past a few sponsored results before getting to the Yelp Deals.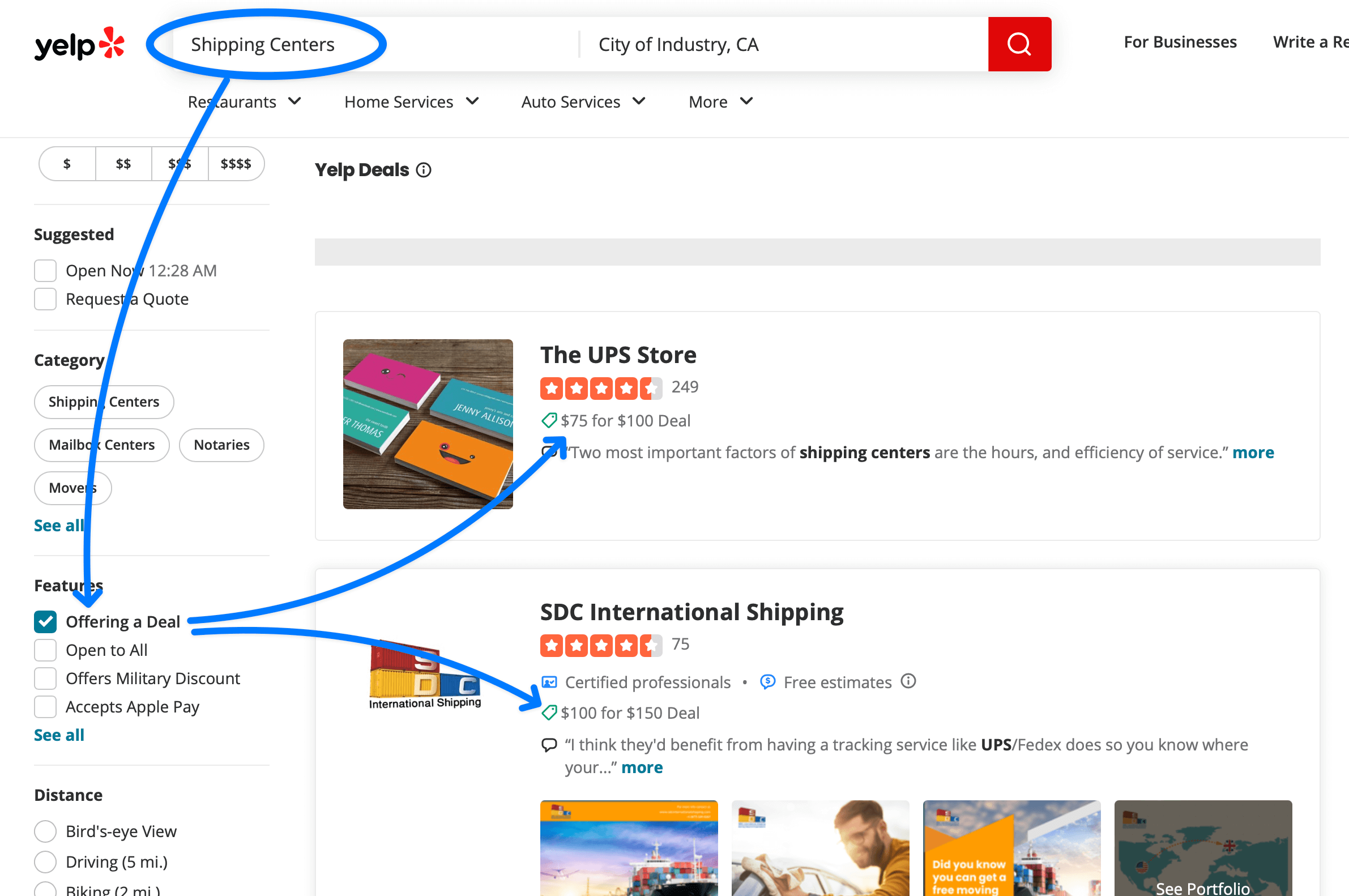 If you have a thermal shipping label printer that supports non-proprietary labels, you can use any of the free 4" x 6" labels shipping carriers provide to their account holders. Our guide can help you choose the best shipping label printer for your needs.You are not forced to buy proprietary labels from them and can use any that are available.
Free FedEx Labels. Order free FedEx labels here. There are many types of electronic shipping labelsYou will need a FedEx account and be logged in. you can choose from, including fanfold, thermal, laser, and Zebra labels. You can also order FedEx boxes and pouches from the site.

Free UPS Labels. UPS also offers free labels and other supplies. Login with your account here. Once you're signed in, navigate to the "Packaging and Shipping Supplies" link and then choose "Labels and Stickers."

If you have a laser or inkjet printer, search for the "WorldShip Peel and Stick Label". Instead of the 4" x 6.25" inch roll of labels, you'll get 50 letter sized sheets with 2 self-adhesive 8.5″ x 5.5″ labels on them.

Even though these labels ship free from UPS, you will still need to set up an account number and have a credit card on file with UPS.

Free USPS shipping boxes and labels. The United States Postal Service provides free boxes, envelopes and labels for their Priority and Express Mail services. This includes their flat rate boxes.
Your local post office will often have a few varieties in stock, but for the shoe boxes, mailing tubes, cremated remains kit, or board game boxes, you may have to order them online. They all ship free and do not cost anything. You can only use them with USPS postage. You cannot stick a FedEx or UPS label on them.
Free USPS shipping supplies are available here.