If you'd like to buy a discounted shipping labels online, we recommend Shippo. Click on the button above to create an account and start generating shipping labels from their web interface. So that you know what to expect, we've included some screenshots of the label buying process below as well some of the benefits of using Shippo.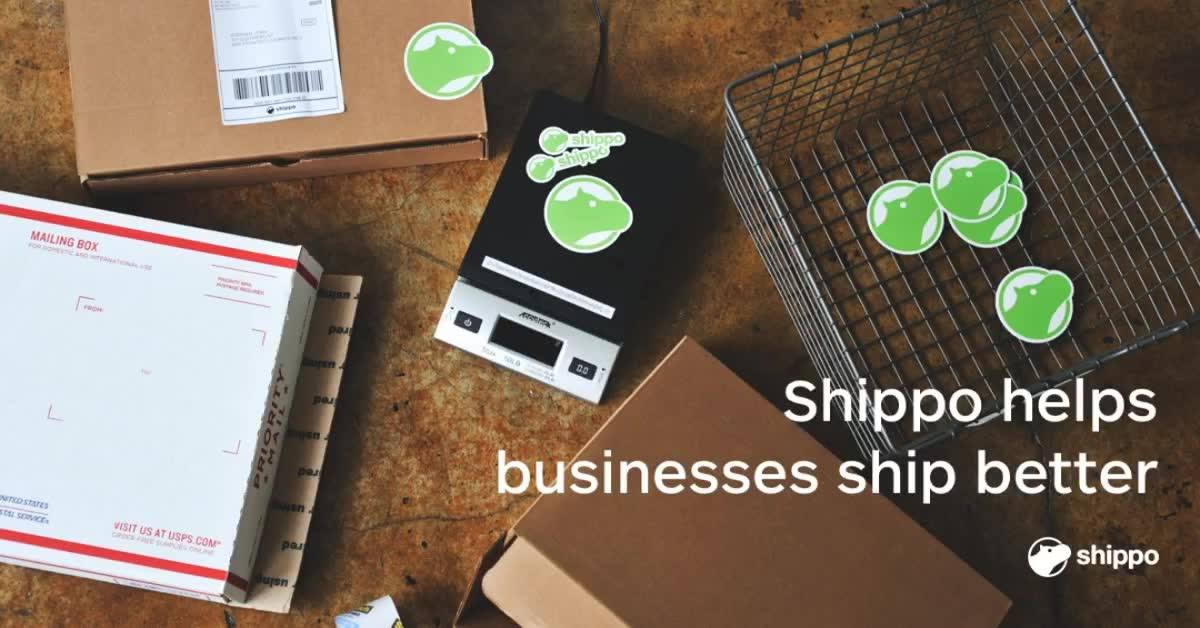 Why Shippo instead of Stamps.com, Endicia, or USPS site?
Discounted Online Postage, the Cheapest Way to Ship
Shippo provides shipping discounts for USPS and DHL regardless of shipping volume. As an individual or small business, you will still get discounted shipping when you use Shippo even though you may only ship one package a year.
As a Shippo customer, you can sign up to FedEx Advantage and get up to 29% off on shipping.
No subscription fees
Shippo offers discounted shipping rates without having to pay a monthly fee. Instead of a monthly fee, they charge 5 cents a label, which is ideal for those who do not need to ship more than a few packages a month. However, the monthly fee is only $10 and provides even steeper postage discounts without the $0.05 pay as you go label fee. If you know you'll be shipping a lot a certain month, say for shipping holiday gifts, you can easily upgrade your plan.
Stamps.com starts at $15.99 per month, while Endicia starts at $15.95 per month.
Multi-carrier
Shippo allows you to buy shipping labels from a variety of different carriers, including USPS, FedEx, UPS, and DHL.
Stamps.com, Endicia, and USPS only allow the purchase of USPS labels.
Single interface
Once you sign up to Shippo, it will be the only shipping site you will need. You can add your FedEx and UPS accounts to your Shippo account and buy all your shipping labels through Shippo. You will know you are choosing the lowest price carrier every time.
Not only are you able compare prices and buy labels from different carriers, you will also have a record of all your shipments in one place. You won't have to deal with digging through paper reciepts to find the tracking number you need, everything will be listed within your account.
How to buy a shipping label from Shippo
Login and click "Create Order". Shippo's target market are e-commerce stores, but we are using it here to take advantage of the discounted shipping labels.
Then enter your "Sender" ("From" address) and "Recipient" ("To" address) information. Click "Save and continue"
In the next screen, you can choose from carrier provided parcels, such as flat rate shipping boxes. If you are using your own box, choose "Enter Custom Dimensions". Enter the weight and dimensions of the package you want to ship. To save you some data entry for future packages you can click the box to save the parcel as a template if you plan on shipping more boxes of the same size and weight.
On this scree, you can add options like signature confirmation and insurance, which will add to the cost of the label. Shippo will automatically choose the cheapest shipping rate by default. If you'd like to choose a different shipping speed or see other price options, click on the "See all available rates" button. Below is a comparison of USPS retail prices vs. Shippo's USPS prices of this particular example. The rate of discount will depend on the shipment destination and dimensions.

Carrier
Service
Delivery Days
Retail Price
Discounted Rate
USPS
First
5
$5.15
$3.82

(26% off)

USPS
Parcel Select
7
$7.19
$7.19

(0% off)

USPS
Priority
2
$7.45
$6.98

(6% off)

USPS
Express
1
$34.75
$30.93

(11% off)



When you click "Buy Label", a shipping label will be generated for you. You can choose to print it on any home printer, and just tape the label on your shipping box, or you can print the shipping label using a 4x6 inch label printer onto a self-adhesive label.
Once you've got your label affixed to your package, just drop off shipment to your local office or arrange for a pick-up.