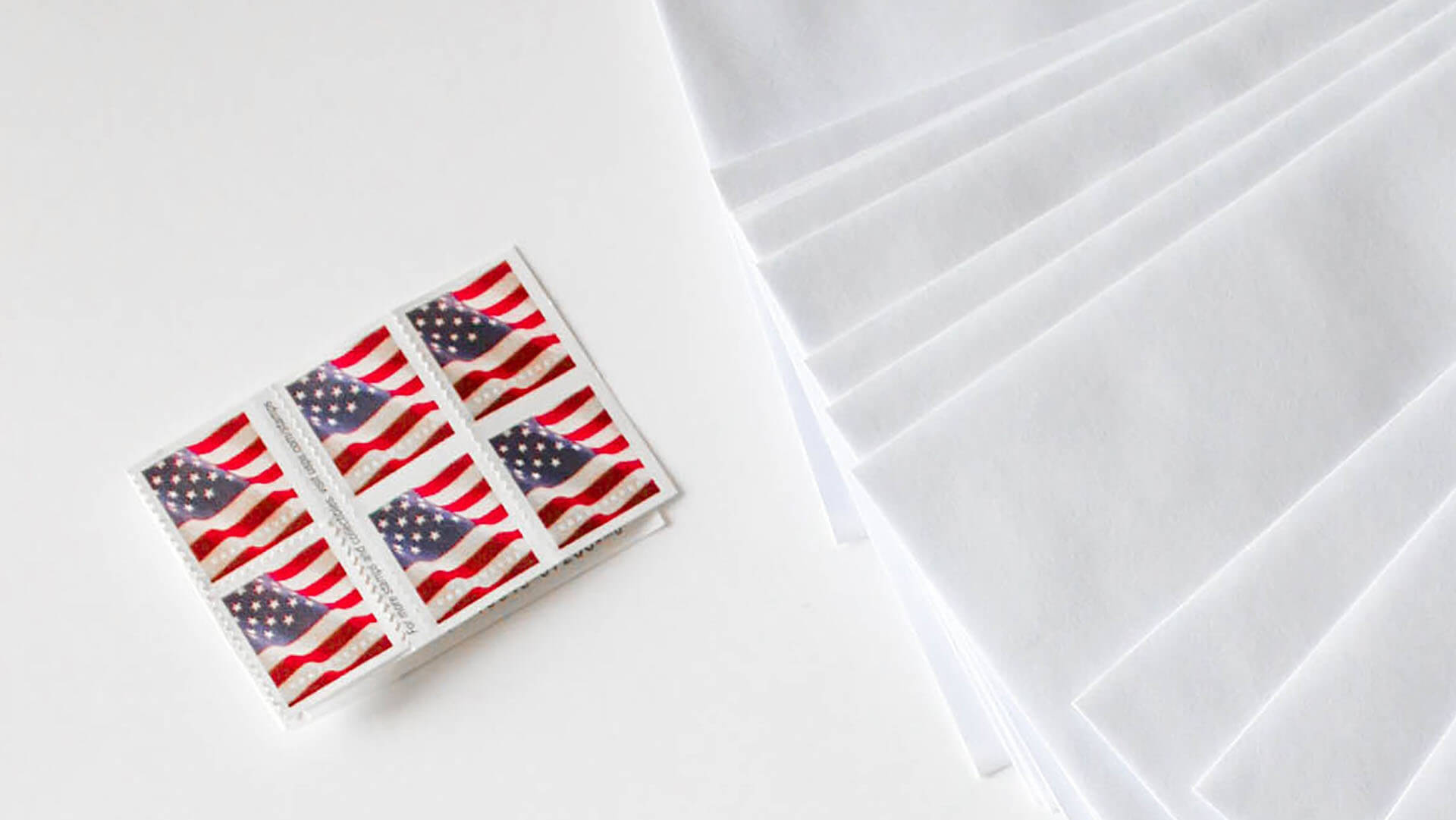 Where to Buy Stamps
Updated:
•
Published:
•
6 min read
You don't have to go to the post office anymore to get your stamps.
The advancement of technology may have unearthed faster and convenient methods of sending correspondence such as fax, email and social media platforms but the age-old format of sending letters and parcels via the good ol' USPS is still relevant. Personalized birthday cards, gift cards and invitations to events are some of the items that can only be sent via post in a very cost effective manner. Others include original copies of payment receipts and signed legal documents such as deeds. Postal and mailing services have also improved. The USPS has become more efficient and better at tracking with it's new computerized and automated sorting systems. Modern features such as Informed Delivery allow you to monitor and track the shipping progress of items sent to you, and First Class packages now all have tracking. Sending items via post is, however, not free. You will have to pay a small fee to facilitate the shipping of your items and you get to do that when you acquire postage stamps for the items that you intend to send by post.
Below is a map to give you an idea of some of the places where you can buy stamps near you:
The official USPS site has become increasingly useful. When you head to their locations page, and enter your zip code, it will display all the places that sells stamps near you. Be sure to select the "Location Types" in the drop down to see places other than Post Offices that carry stamps. Here are some quick definitions of the location types and if they carry stamps: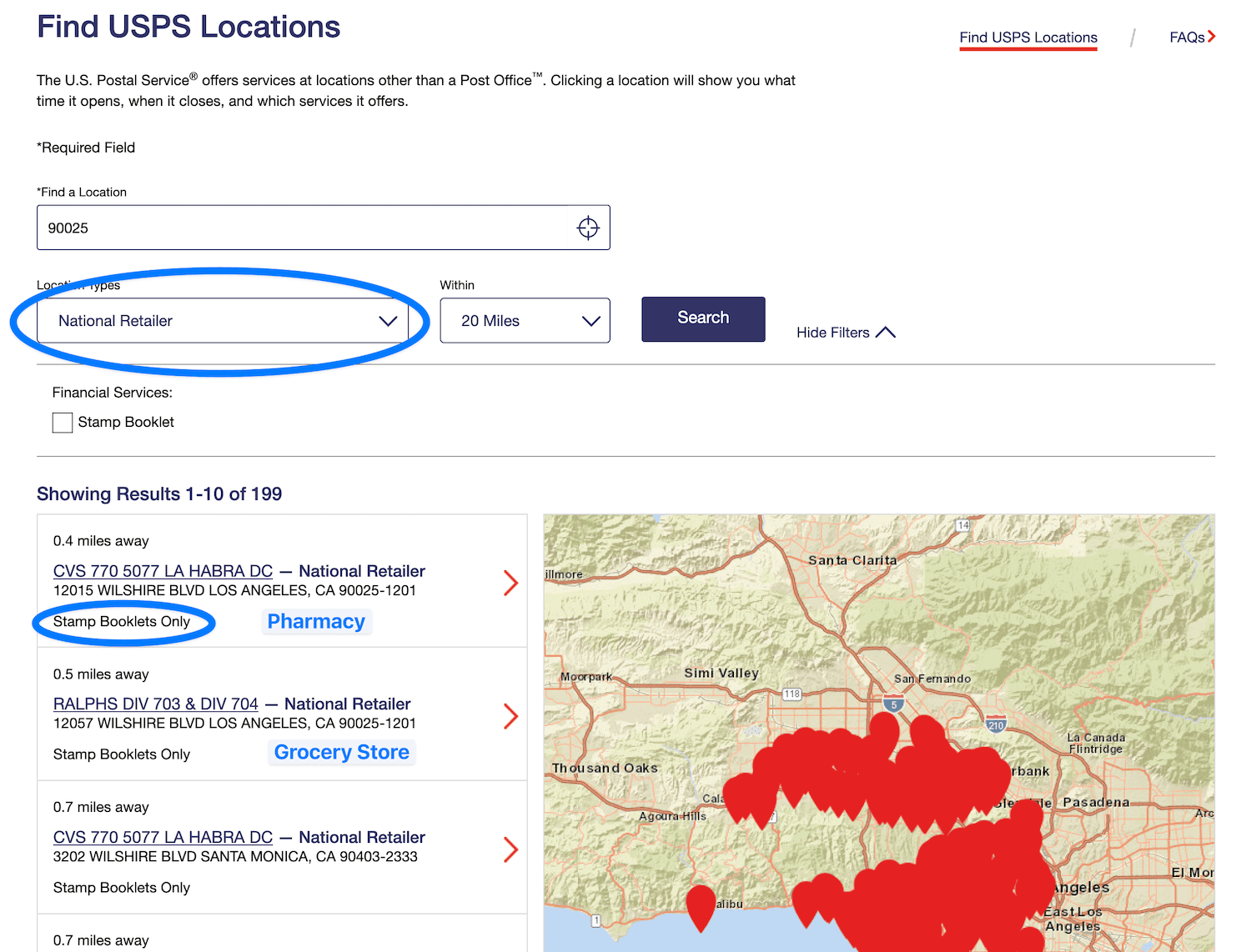 Below are some more locations outside of the post office where you can find postage stamps.
You can buy stamps online straight from the official source, the United States Postal Service Online Store. You can also order stamps from sites like Amazon.com, Walmart.com, Costco or Office Depot (paid links).
Stamps.com and ShippingEasy both offer a service that allows you to print stamps from home. These services are very convenient and save you time. They also offer discounts on shipping costs by providing Commercial Rates. ShippingEasy has instructions on how to print stamps here.
You can also buy stamps online using services like Stamps.com or Easypost.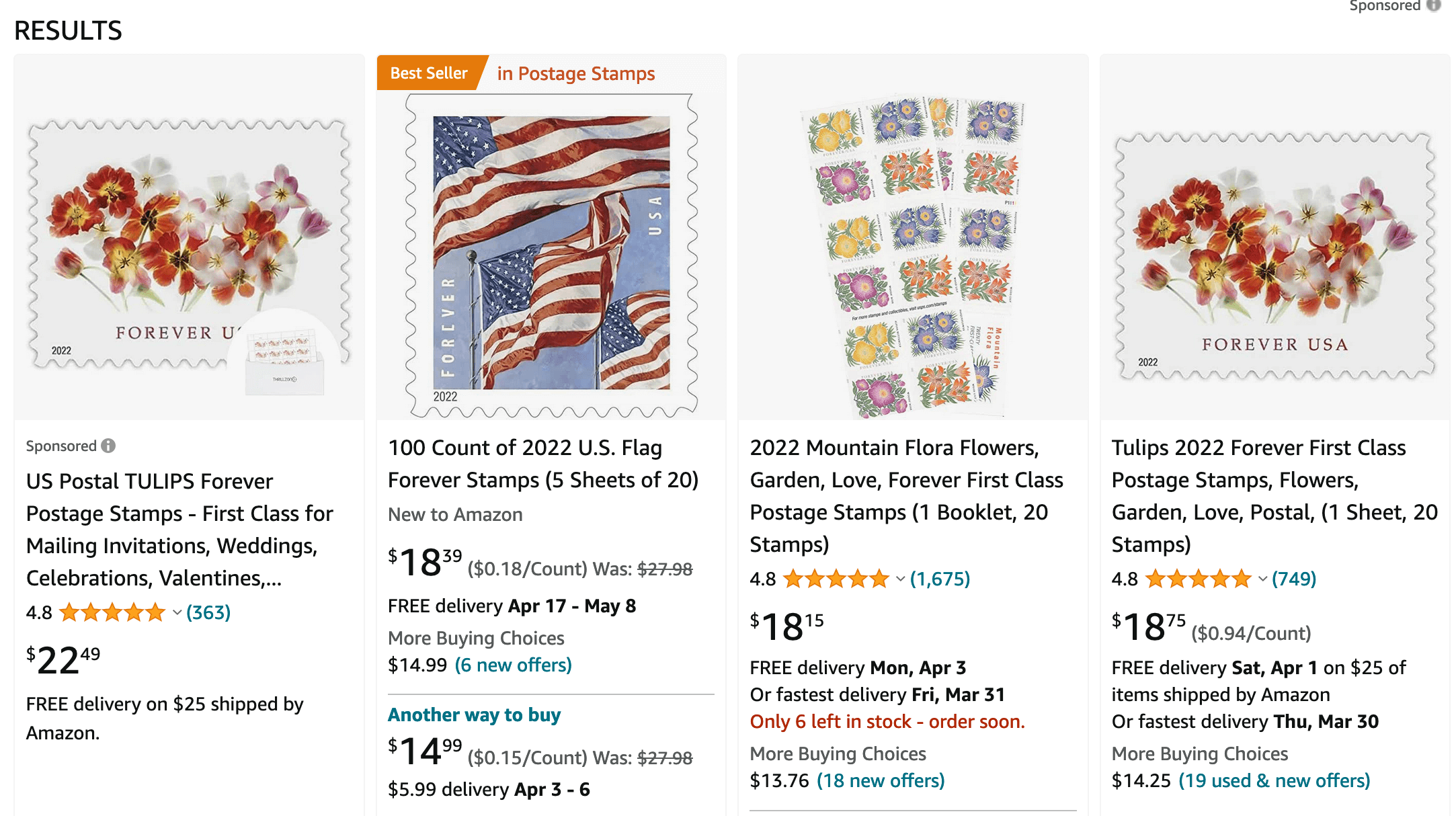 These are self-service kiosks that offer postal and mailing services to customers. Many post office's now have an APC kiosk. You may have one in your local post office lobby or near the service counters. Since these kiosks are self-service, you get to avoid the unnecessary lines that often plague the post office. These kiosks are often placed outside of normal post office lines where they put PO boxes, making them accessible after post office hours. If you need a stamp when the post office is not open, an APC may be a good option.
To find an APC, refer to the USPS official website and filter by "Self-Service Kiosks".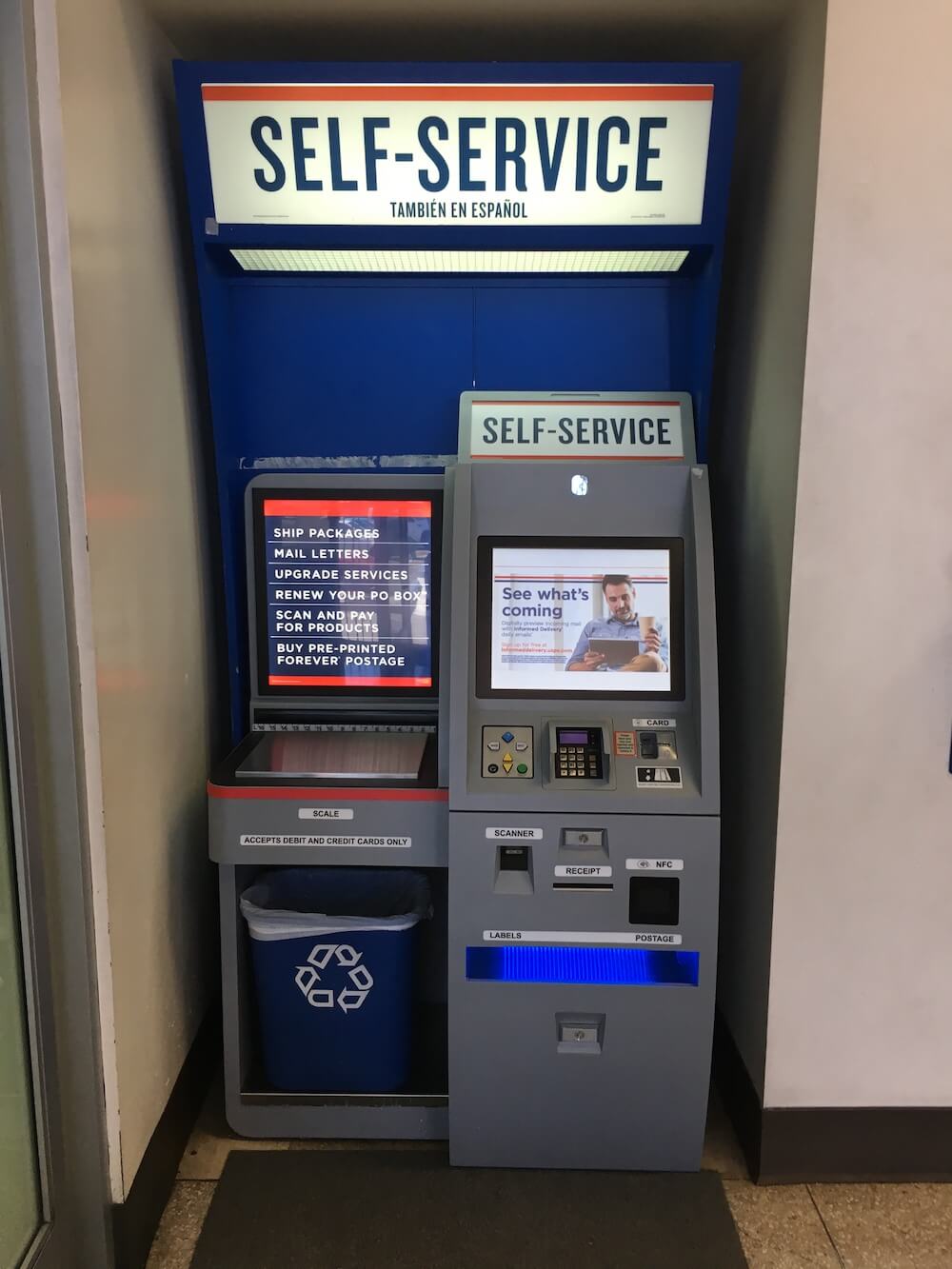 Most retail stores have been authorized to sell postage stamps by the USPS and, therefore, they could be the answer if you are wondering "where can I get postage stamps near me?" The small retailers in your neighborhood may not always stock stamps, but large retail chains such as Walmart and grocery chains, like Albertson's should have them.
Stamps are usually sold at checkout. You can ask the cashier for a book of stamps. If they do not have them, the cashier can direct you to the department that does.
You can use the online store locators to of these common nationwide retailers to find the exact location of a store near you. Here are a few: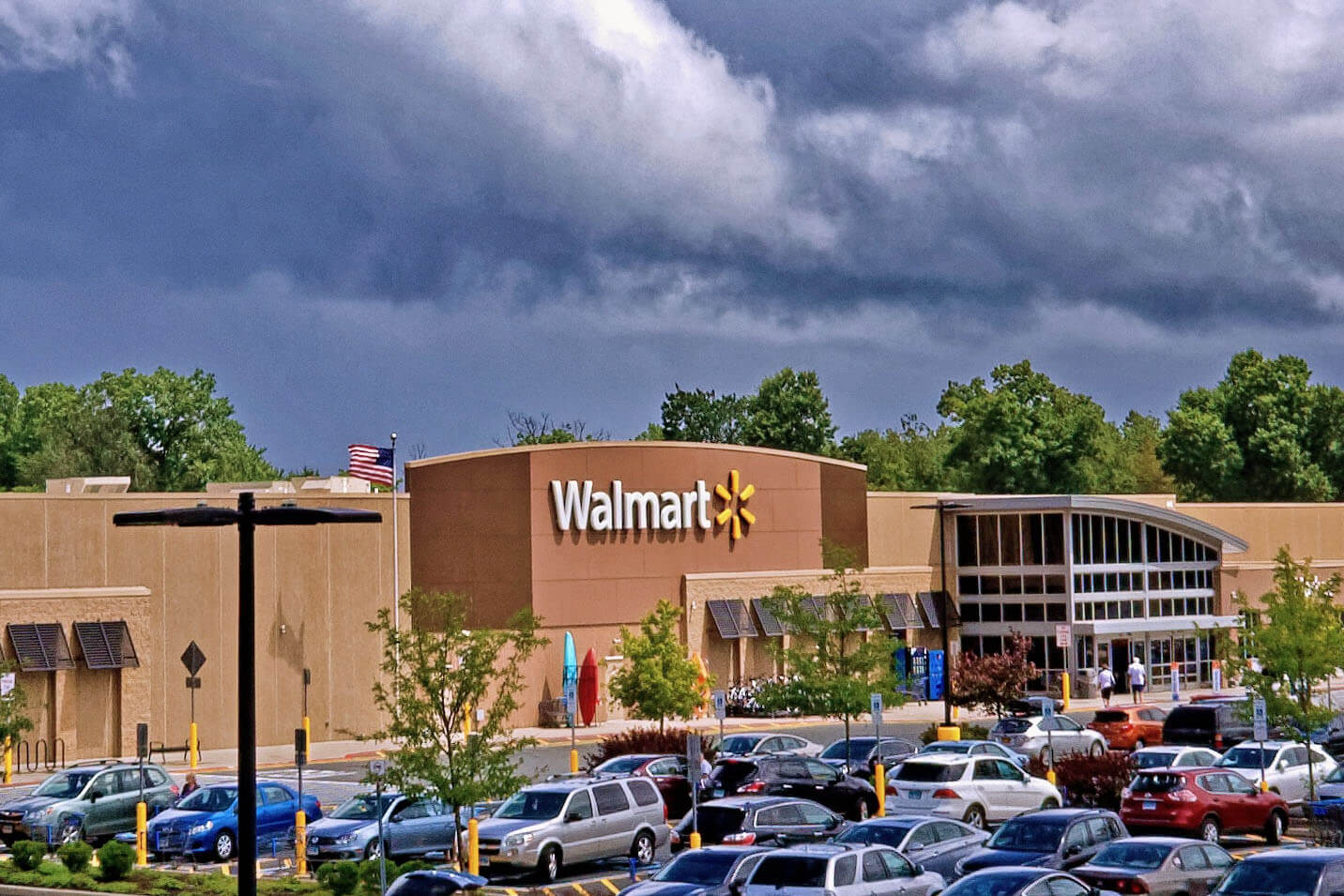 Apart from selling prescriptions, pharmacies and drug stores are known to sell stamps as well. These drug stores are usually open for the entire day and this makes them ideal places to buy postage stamps near me. It should be noted that not all pharmacies and drug stores stock stamps. Your local pharmacy may not have stamps and you are better off checking with large drug stores such as RiteAid, Walgreens, and CVS. These large pharmacies have stores spread across the country and you can easily find a store near you. You can as well use their online store locator to find a store near you.
Shipping centers such as UPS Stores and FedEx Office stock postage stamps which they sell to willing buyers. These organizations have stores spread across the country and they, therefore, serve as among the best places to find postage stamps. S Finding the location of such stores near you has been simplified and you can simply log into the shipping center's website and use the store locator to find a store near you.
When buying postage stamps, you are no longer limited to purchasing from the post office. There are many options as the above list shows. Even so, the above list is not exhaustive. There may be other places to find stamps, such as certain gas stations and banks, though they are a bit less common. If you need a stamp, the first place to look to see if a retailer near you sells books or rolls of stamps is to check the official USPS locator.