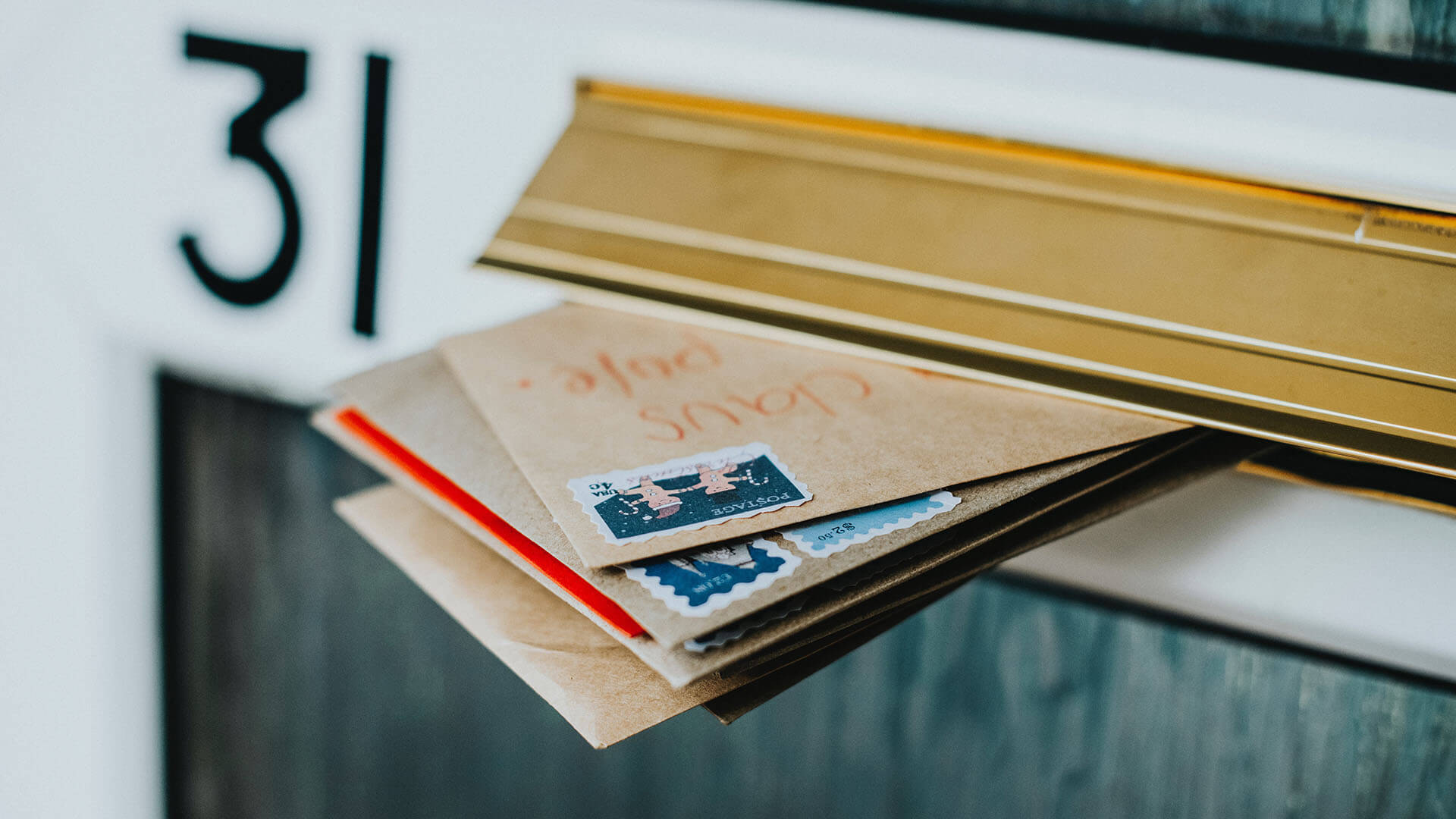 USPS Mail Hold
The United States Postal Service will hold your mail on request for as little as 3 days or a maximum of 30 days.
The Hold Mail Service from the United Postal Service indicates to the postal carrier that mail is not to be delivered to your address for the days you specify. Use the mail holding service when you're going on vacation or heading out of town for whatever reason. You can use this service if you move to a new location, you may need to pause you mail delivery temporarily until they have set up a new address and mailbox. They will collect and store your mail until you return. Aside from ensuring your mail is safe when you return, having the post office hold your mail will keep your home mailbox from overflowing. An overflowing mailbox is a sign to thieves that nobody is home, making you a target for robbery.
There is no fee for the USPS Hold Mail Service, so why not take advantage of a wonderful free service offered by your local post office?
Signing up online is easy. You can also enable your mail to be held by going in person to your local post office or by calling.
To activate Hold Mail online, fill out the form at the official USPS site here. You'll need to create an account if you don't already have one.
Signing up for Hold Mail online is probably the easiest and quickest method of pausing your mail, especially when compared to waiting in line at the post office or trying by phone and waiting on hold.
Step 1:
First enter your address and other contact information. The site will check to see if Hold Mail is available for your area.
Step 2:
The site will then ask to verify your identity. If you are able to provide a valid mobile number, you can get verification confirmation instantly, otherwise you may have to use other verification methods, which may take a few days. Step 3:
After verifying your identity, enter the start and end dates you'd like for the Hold Mail Service. If you submit your request before 2:00 AM Central Time, the mail hold can start as soon as the same postal business day.
For all requests submitted after 2:00 AM Central Time, the hold request can start as soon as the next Postal business day. Postal business days are defined as Monday through Saturday, and do not include holidays.
At the end of your hold period, your letter-carrier can deliver your mail to you, or you can choose to pick it up at your local Post Office. Be sure to show up with an acceptable form of identification.
You can choose whether you'd like your letter-carrier to deliver all the mail that was being collected during your hold period, or you can choose to pick up your stack of accumulated mail from the post office. If the amount of mail is too great to fit in your mailbox, your letter-carrier my leave a not requesting you pick up your mail. Once your hold mail has been collected, your regular mail service will continue.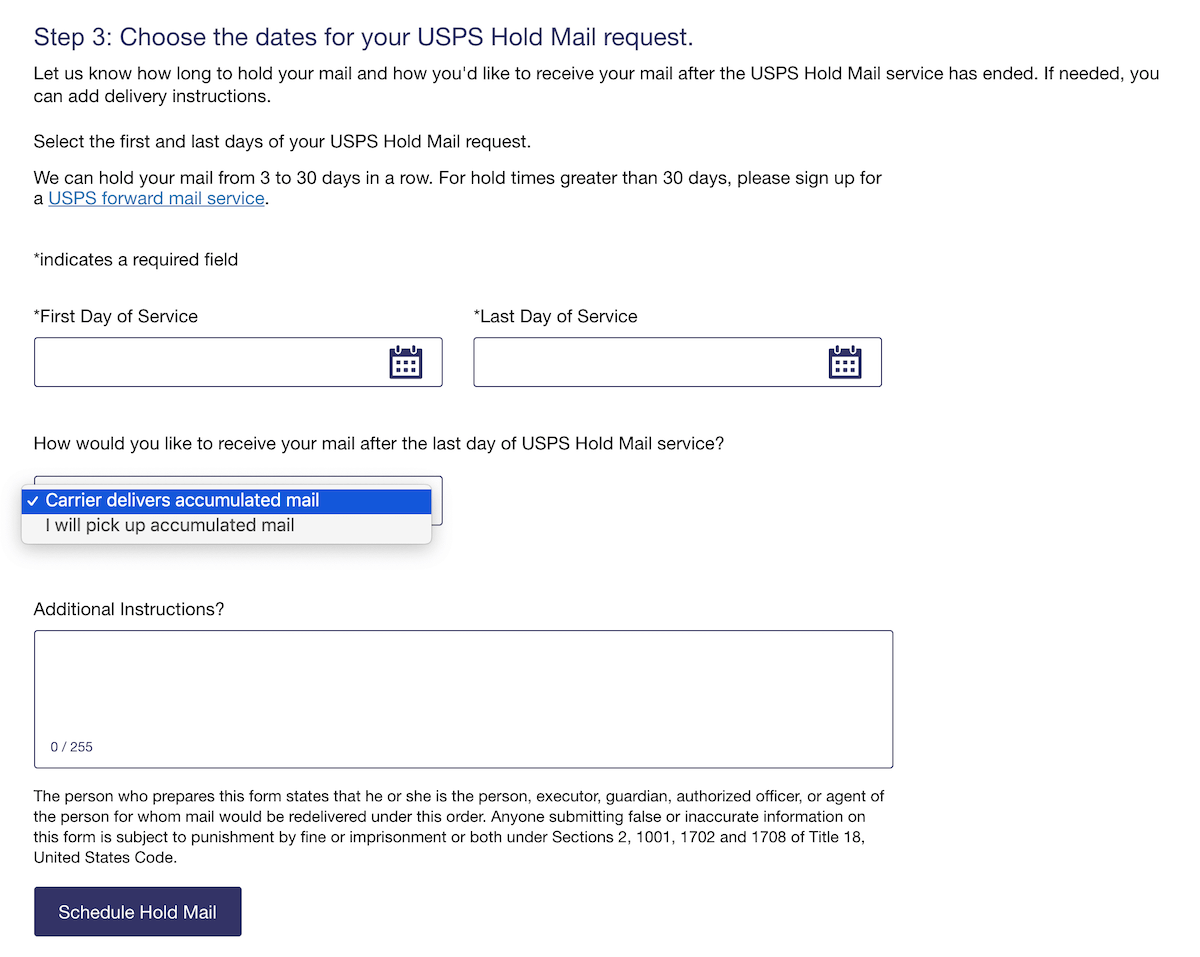 You can visit your local post office, and provide them with a filled out from to authorize the Hold Mail Service.
The form is a sample form is available here. You can request the PS Form 8076, Authorization to Hold Mail when you get to the post office.
Your mail will be held as soon as the next day. Check your post office hours to ensure you arrive before closing.
A request for Hold Mail can also be done on the phone. Call :1-800-ASK-USPS (1-800-275-8777)
If you call before your local Post Office closes, your request for a mail hold can be activated for the next day's delivery schedule.
The Hold Mail service is 100% free. It is only valid for street addresses since mail that is sent to PO Boxes is held automatically anyway. You can choose for the duration of the Hold Mail request to last anywhere from 3 days to 30 days. Anyone who is leaving town for longer than a month should contact the Post Office in their local area and make special arrangements. It wouldn't help to get a PO Box either in this case because PO Box mail can only be held for 30 days too. After that, the mail gets returned to the original senders.
The USPS Hold Mail Service applies to both packages and letters that you may receive at your address. However, it is important to know that once you submit your request and it is approved, the USPS will hold all the mail that is sent to the specified address. Therefore, if there is someone else living at the address who is not leaving with you, then any Hold Mail request that you make will cause their mail to get held as well. Keep that in mind.
When you're ready to retrieve your held mail after you've returned to town, you will most likely have to visit your local Post Office to do it. They will not deliver all the mail they held to your house if it cannot fit nicely in your mailbox. You need to request your held mail at the Post Office and present your photo identification to them. In some cases, the mail carrier may deliver your held mail if it can all fit in your mailbox. Usually, however, they will put a Pickup notice in your mailbox to let you know your mail is available for pickup at the post office branch.
Picking up your mail earlier than the end date given for your Hold Mail request will automatically cancel your "Hold", causing regular mail delivery to resume the next Postal day.
If you find yourself traveling a lot, you may want to utilize a virtual mailbox. Instead of going through the hassle of constantly holding your mail at the post office, and then returning to a stack of unread letters, virtual post office services will scan your physical mail and deliver a digital copy to your email. They even have services that will cash any checks mailed to you, saving a trip to the bank.
Great for digital nomads and remote businesses, a virtual mailbox may be a good alternative to holding mail.