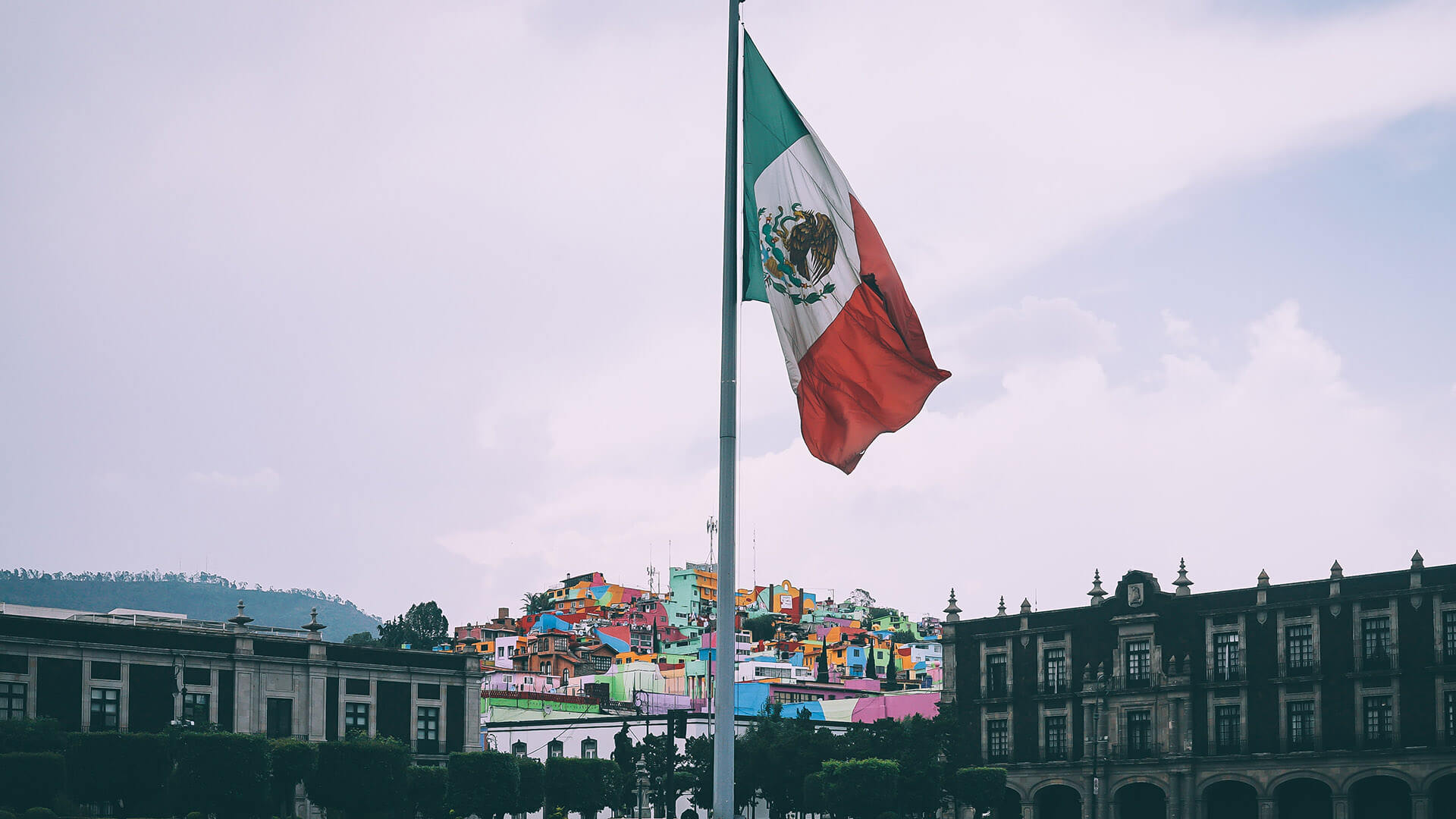 Shipping to Mexico from the U.S.
Updated:
•
Published:
•
9 min read
International shipping to Mexico: Your how-to guide for shipping packages to our neighbors down south.
Shipping items to Mexico from the United States is similar to preparing any international shipment—which may be slightly confusing at times. The most important factor to be aware of when preparing a shipment to Mexico is the country's more extensive list of prohibited and regulated items. This guide will help you understand the specific requirements to get your goods—personal or commercial—to Mexico hassle-free.
To find the cheapest way to ship packages to Mexico, visit the shipping calculator on our home page. You will be able to easily compare prices to Mexico from carriers like USPS, UPS, FedEx, and DHL.
The United States Postal Service (USPS), FedEx, and UPS are popular carrier options to use for shipments to Mexico. Rates vary by the package size and weight. If the carrier offers a flat rate shipping box, that will likely be the most economical option, especially for personal shipments. USPS-produced flat rate boxes hold up to 20 pounds. If the package is larger or you're not using USPS-produced boxes, the total girth of the package cannot exceed 108 inches and weight cannot exceed 66 pounds. If using Global Express Guaranteed or Priority Mail International, your package can weigh up to 70 pounds. Here are two examples of rates and shipping times for USPS:
Priority Mail International

Starts at $36.60 (flat or variable rate)
6-10 days
USPS Tracking and Return Receipt available

Priority Mail Express International

Starts at $64.30 (flat, variable, or prepaid)
3-5 days
USPS tracking
Tracking for packages sent through USPS won't be as reliable as UPS or FedEx. Since USPS partners with the post office of the receiving country, their procedures and systems for scanning packages may not be as reliable as you are used to.
If you need to ensure your packaged is tracked precisely go with a private carrier like DHL, FedEx, or UPS. You may pay more, but if use a free online account and apply any shipping discounts, you may only be paying a few dollars more for peace of mind.
UPS and FedEx handle larger packages. Individual packages can weigh up to 150 pounds. They should not exceed 165 inches in combined length and girth and can be up to 108 inches long. Larger packages require special pricing.
For commercial shipments, UPS and FedEx offer business services to ease the shipping process and may offer savings for combining shipments. These carriers also offer customs clearance services that can be included in the cost of shipping.
You can purchase postage for shipments to Mexico online or in person.
To purchase postage online, you'll need to know the dimensions and weight of your package. With this information, you can use online services from USPS, FedEx, or UPS to purchase postage and create a shipping label. You'll need an account to create shipping labels, track packages, and conduct other shipping-related services.
Using a multi-carrier shipping service like EasyShip will allow you to choose the best price amongst all the various carriers they support. Along with being able to compare the best prices, you are also able to fill out all the customs information online.
With EasyShip, you can print out your shipping label with your home printer and use tape to attach it to your package. You'll also be able to print your customs documents from EasyShip software and get discount rates from USPS, UPS, and DHL.
In person, the carrier will weigh and measure your package and calculate shipping costs for you. Remember, postage will be expensive then buying in-person. USPS postage can be purchased at an official Post Office or approved Postal Provider. Locations can be found online. To use UPS to ship packages to Mexico, visit an official UPS Store location or authorized provider. For FedEx services, visit a FedEx Office, FedEx Ship Center, Office Depot, OfficeMax, or an authorized FedEx ShipCenter. You can find DHL locations here.
International shipping requires a customs form, which declares the value of the shipment to aid in the assessment of additional duties and taxes. It's important to be accurate and detailed on this form to avoid any delays or unexpected additional costs. Use legible handwriting when filling out the form or use an online tool to type the information and print it using EasyShip or another online customs form tool.
Customs forms can be found at your local Post Office or ordered online (at no cost, though there may be shipping and handling charges). You can fill out the form at the Post Office, but it's helpful to keep a few at home to prepare beforehand.
USPS customs forms can also be completed online. If you have an online USPS account, you can use Click-N-Ship or the online customs form tool.
UPS, DHL and FedEx provide both online form services and printable files for all international shipping documents.
For whichever method you choose, here is the basic information needed to complete a customs form for shipping to Mexico:
Sender address and contact information
Recipient address and contact information
Package weight
Package value
Contents' value
Contents' weight
Shipping service
Many countries require payment of their duties, taxes, or tariffs on imported packages—even personal ones. Typically, the receiver pays these fees and they are calculated based on the item cost. Some carriers allow the sender to choose who is responsible for paying these additional fees so that the receiving party does not have to be responsible for them.
Shipments to Mexico are subject to the country's value-added tax (VAT), which is currently 16%. According to the USPS, import taxes apply to goods exceeding $50 USD and a commercial invoice must accompany these shipments. Personal shipments valued at less than $50 USD are not typically charged additional duties or taxes. There are no gift exemptions for Mexico.
Many items are prohibited or regulated for import into Mexico, some of which seem unusual. Each carrier may have additional regulations. Be sure to check with your selected carrier to make sure the item you're shipping is not prohibited, regulated, or subject to additional fees.
The trade.gov website from the International Trade Administration lists the following items as prohibited or restricted for shipping to Mexico:
Narcotics
Live Fish
Predators of any size
Images representing children in a degrading way
Used clothing not part of personal luggage
Firearms and ammunition
Electronic cigarettes (as of February 2020)
USPS declares the following items completely prohibited from shipping to any country outside of the United States:
Aerosols
Air Bags
Alcoholic beverages
Ammunition
Cigarettes
Dry Ice
Explosives
Fresh fruits and vegetables
Gasoline
Marijuana (medical or otherwise)
Nail polish
Perfumes
Poisons
For packages heading to Mexico, USPS prohibits the additional following items:
Coins, banknotes, currency notes, traveler's checks, or securities payable to bearer
Gold, silver, or platinum
Jewelry and other valuables
Perishable confectionery (candy or sweets) and pastries
Perishable infectious and noninfectious biological substances
Pharmaceutical products, specifically pills, troches, tablets, granules, capsules, and lozenges
Pistols (or other devices for emitting tear gas)
Powders of all kinds
Radioactive materials
Materials related to foreign lotteries
Whey and serum products of animal origin
Works infringing Mexican copyright laws
Meat and products derived from pork
Precious stones
Electronic cigarettes
USPS has restrictions on the following items:
Chocolate and products made of chocolate
Medicinal products
Beauty products, cosmetics, and toiletries
USPS has detailed information about these restrictions and the steps required for mailing.
In addition to the items listed above, UPS regulates the shipping of these items:
Animals and animal products
Books, magazines, and catalogs
Compact Discs
Computers
Fasteners (screws, nuts, etc.)
Shoes (more than three pairs)
Software
Tapes (audio, video, magnetic)
Textiles (more than $1000)
Toys
Wood and products made from wood
Military equipment
FedEx regulates the shipping of these additional items to Mexico:
Bicycles
Coffee, coffee samples
Cotton, cotton seeds
Fabrics and fabric samples
Eyeglasses and contacts
Films
Oil
Tea
Telecomm equipment
Televisions and related equipment
Turtle hides and skins
Used clothing
Wallpaper
Yarn
Shipping times vary by carrier and the service you choose, but packages can reach Mexico within 3 to 10 business days.
FedEx, DHL, and UPS deliver the package directly to the Mexican recipient. USPS delivers packages to Mexico Customs Authority and once it is cleared, the Mexican Postal Service handles the final delivery to the recipient. Properly filling out customs forms prevents shipping delays. Most carriers provide a tracking number so you can follow the package's transit. However, if you ship via USPS, you are relying on Mexico's postal service, Correros De Mexico (formerly Servicio Postal Mexicano (Sepomex)). Once it reaches Mexico, you may have to use the country's own tracking service to follow your package. Entering your USPS tracking number should continue allow you to track your package in Mexico.
New Year - January 1, 2023
Constitution Day - February 6, 2023
Benito Juarez's Day - March 20, 2023
Labor Day - May 1, 2023
Independence Day - September 16, 2023
Revolution Day - November 20, 2023
Christmas Day - December 25, 2023
UPS and FedEx also have international holiday closures, which may impact your shipping time.
Shipping boxes, envelopes, and labels can be obtained free of charge from any of these three carriers in-store or online if you using the company's branded box. If you order online, you'll need an account and you will have to pay shipping and handling fees. Though, USPS flat rate boxes are free without needing to pay shipping fees.
Amazon.com (paid link) is also a good source for boxes. If you are looking for a single box, office supply stores, like Staples, will often have them in-store at a brick and mortar location.
Remember, you also have the option of shipping with poly mailers (paid link) to save money. They are lighter and less expensive than boxes.
If you are in Mexico and looking to have someone in the United States ship merchandise to you, you may want to consider utilizing websites like MyUS.com. You can buy from an online retailer, ship to MyUS.com and they will ship the products to you in Mexico. This is super helpful when the online store you are buying from does not offer international shipping.