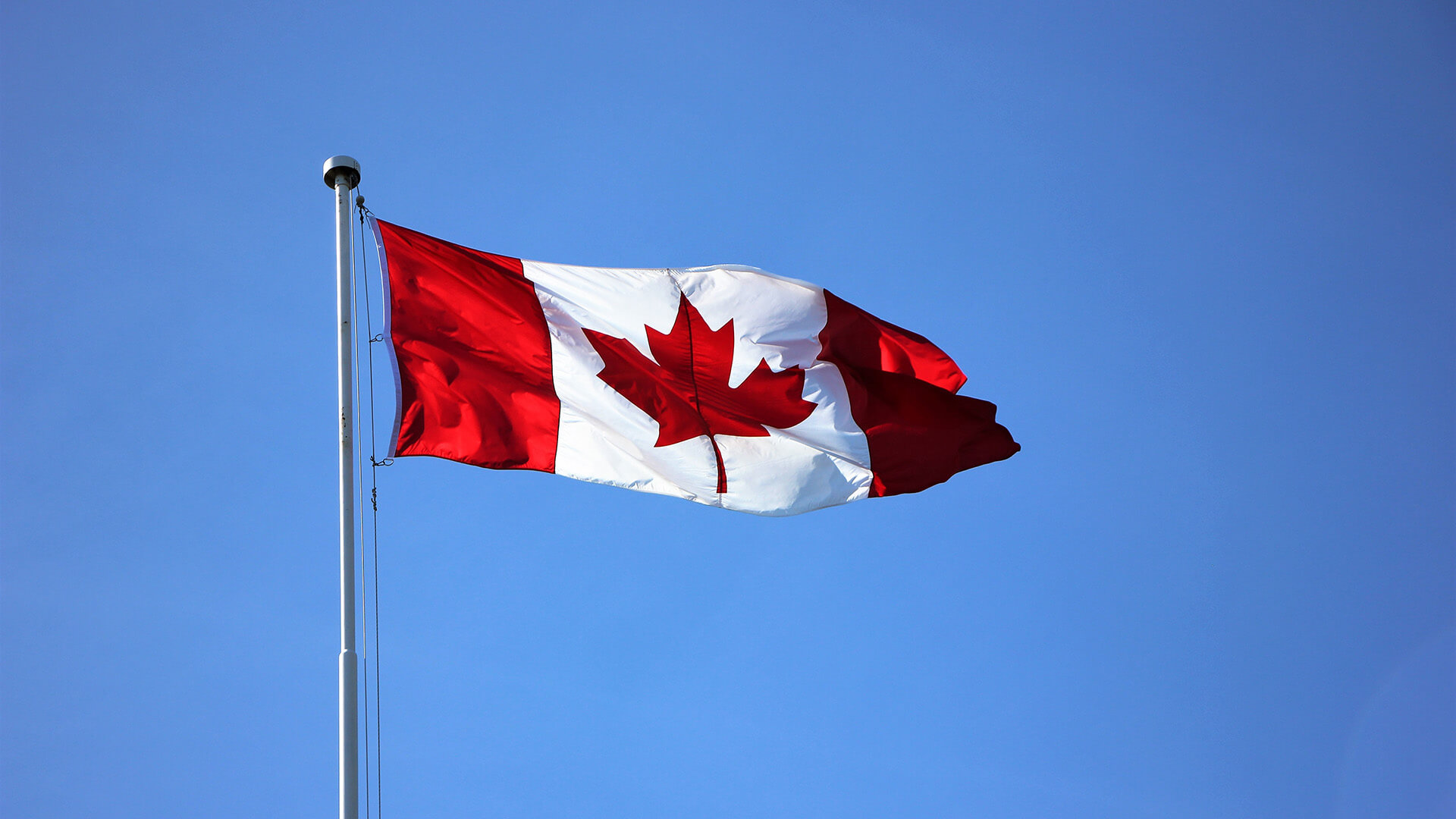 Shipping to Canada from the U.S.
International shipping to Canada: Your how-to guide to ship packages to our neighbors up north.
Yes. The USPS does ship from the United States to Canada. Other carriers like FedEx, UPS, and DHL will also ship to Canada.
According to Office of the U.S. Trade Representative, Canada is the United States' second largest trade partner, accounting for nearly 18% of all U.S. exports in 2018. That's just to say, that if you're looking to move goods across the North American border, you're not alone! Although Canada seems relatively close, getting packages there requires international shipping, which can get a bit confusing. As with shipping to any country, Canada has regulations to which you must adhere in order to ensure your package arrives swiftly. Here's a guide to help you get your goods—personal or commercial—up north.
The USPS price list for international shipping can be found here. Prices differ depending on which Price Group a particular country belongs to. In Canada's case, they belong to Price Group 1. You can see USPS' pricing list here.
Flat Rate Envelopes are $28.57 for Commercial Rates and $30.35 if you pay retail. For a Medium Flat Rate Box, you are looking at $60.55 retail and $56.10 with commercial pricing. You can get commercial rates buy buying your postage from shipping software such as ShippingEasy or Stamps.com. This software will also make filling out customs forms a lot easier than doing it by hand.
USPS-produced flat rate boxes have different maximum weights than domestic flat-rate boxes. Maximum weight for Priority Mail International Flat Rate Envelopes and small Flat Rate Boxes is 4 lbs. Medium and large Priority Mail International Flat Rate Boxes hold a maximum of 20 lbs.
The United States Postal Service (USPS), FedEx, and UPS are convenient carrier options to use when shipping to Canada. Rates vary by the package size and weight as well as the destination zone.
To find the best rates, visit our shipping to Canada calculator. It compares the shipping costs from USPS, DHL, UPS, and FedEx for you.
If you're not using USPS-produced boxes, the total girth of the package cannot exceed 108 inches and weight cannot exceed 66 pounds. If using Global Express Guaranteed, your package can weigh up to 70 pounds. Here are two examples of rates and shipping times for USPS:
Priority Mail International

Starts at $30.35 (flat or variable rate)
6-10 days
USPS Tracking and Return Receipt available

Priority Mail Express International

Starts at $54.75 (flat, variable, or prepaid)
3-5 days
USPS tracking

For a comparison of USPS mail services, you can find more info from this table on the official USPS site.
UPS and FedEx handle larger packages. Individual packages can weigh up to 150 pounds. They should not exceed 165 inches in combined length and girth, and can be up to 108 inches long. Larger packages require special pricing or freight service.
If you're shipping personal items rather than commercial, USPS is probably your best choice. You can choose from several flat rate options and ship up to 20 pounds in a single flat rate box. It saves you from having to buy a box, since they are offered for free by the post office.
For commercial use, UPS and FedEx offer business services that will ease the shipping process and may offer savings for combining shipments. These carriers also offer customs clearance services that may be included in the cost of shipping, depending on the service selected.
You can purchase postage for shipments to Canada online or in-person from your local post office or shipping center, or online.
You'll be paying less if you buy online. You'll need to know the dimensions and weight of your parcel. With this information, you can use the online services from USPS, FedEX, DHL, or UPS to purchase postage and create a shipping label. Additionally, USPS-approved postage can be purchased through an shipping software such as EasyShip (which offers discount USPS, UPS, and DHL rates and no monthly fees), or Stamps.com. You'll need to create an account to create shipping labels, track packages, and conduct other services related to shipping packages.
If you decide to go in-person, the carrier will weigh and measure your package. USPS postage can be purchased at an official Post Office or approved Postal Provider. Locations can be found on the USPS locator. To use UPS to ship packages to Canada, visit an official UPS Store location or authorized provider. For FedEx services, visit a FedEx Office, FedEx Ship Center, Office Depot, OfficeMax, or an authorized FedEx ShipCenter.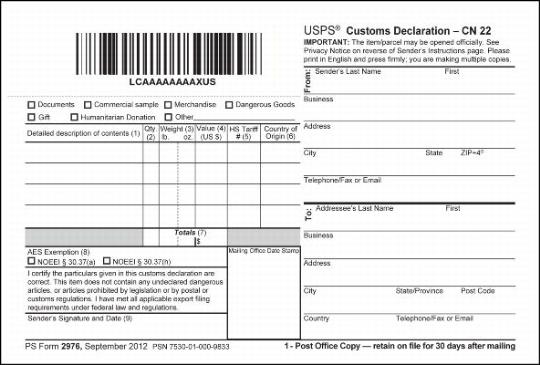 International shipping requires additional paperwork, the most common of which is a customs form. This form declares the value of the shipment, which is then used to assess duties and taxes. It's important to be accurate and detailed on this form to avoid any delays. Use legible handwriting when filling out the form or use an online tool to type the information and print it.
Through USPS, customs forms are required for all mail weighing more than 16 ounces. Forms can be found at your local Post Office or ordered online (at no cost except shipping and handling). You can fill out the form at the Post Office, but it's helpful to keep a few on hand at home to prepare before visiting the Post Office.
USPS customs forms can also be completed online. If you have an online USPS account, you can use Click-N-Ship or the online customs form tool.
If you are shipping through a service like EasyShip, they will have their own customs tool integrated with their software. In which case you don't have to use the USPS version.
UPS and FedEx provide both online form services and printable files for all international shipping documents.
For whichever method you choose—in person or online—here is the basic information needed to complete a customs form for to shipping to Canada:
Sender address and contact information
Recipient address and contact information
Package weight
Package value
Contents' value
Contents' weight
Shipping service
International shipping includes fees known as duties or tariffs, which is a tax applied to the item that has been imported. Typically, the receiver is responsible for paying these fees, however, if using a carrier like FedEx, UPS, or DHL, the shipper has the option to pay the fees. They can be calculated into the shipping cost. Items shipped to Canada are subject to duty and taxes, depending on the item and its value. When the package reaches the Canada Border Services Agency, fees are assessed and any remaining balance is usually billed to the recipient.
Goods and Service Tax (GST): 5% federal tax applicable to items being sold to Canadian customers
Provincial Sales Tax (PST): Provinces without PST impose their own tar rate, which varies by location and ranges from 5 to 9.75%
Harmonized Tax (HST): Some Canadian provinces combine the GST and PST
There are two main exceptions to duty and tax charges when shipping to Canada: items worth less than $20CAN and gifts valued less than $60CAN. The exception to the $20CAN rule does not apply to tobacco, books, magazines and periodicals, and alcohol.
If an item is sent as a gift, it must be sent personally from the shipper to the recipient (not from a retailer). It must also clearly be designated as a gift on the packaging and by a note or card. Items exempted from the $60CAN gift rule are tobacco, alcohol, advertising materials, and items sent by a business.
USPS declares the following items completely prohibited from shipping to any country outside of the United States:
Aerosols
Air Bags
Alcoholic Beverages
Ammunition
Cigarettes
Dry Ice
Explosives
Fresh Fruits and Vegetables
Gasoline
Marijuana (medical or otherwise)
Nail Polish
Perfumes (containing alcohol)
Poisons
For Canadian packages, USPS has additional restrictions on the following items:
Coins, banknotes, currency notes, traveler's checks, or securities payable to bearer
Gold, silver, or platinum
Jewelry and other valuables
Furs
Drugs and medicines that do not comply with Canadian law
Eggs, meat, and meat food products
Precious stones
Veterinary biological products
Vaping products
USPS has detailed information about these restrictions and the steps required for mailing. In addition to the items listed above, UPS regulates shipping of these items:
Baby walkers
Paintball markers and air soft guns
Products made in Iran
Woods and products made of wood
FedEx regulates the shipping of these additional items:
Used or second-hand mattresses
Hemp products containing THC
Shipping times vary by carrier and the service you choose, but in general packages can reach Canada within 2 to 10 business days.
FedEx and UPS deliver the package directly to the Canadian recipient. USPS delivers packages to Canada Border Services Agency and once it is cleared, Canada Post handles the final delivery to the recipient. Filling out customs forms properly prevents shipping delays.
Most carriers provide a tracking number so you can follow the package's transit. Since USPS partners with Canada Post to handle the final mile of shipping, you can use your tracking number on the Canada Post tracking page for details that USPS tracking might not provide.
International holidays may impact your package's arrival time. National Holidays observed by Canada Post are:
New Year's Day (2 January 2023) Good Friday (7 April 2023) Easter Monday (10 April 2023) Victoria Day (22 May 2022) Canada Day (3 July 2023) Labour Day (4 September 2023) National Day for Truth and Reconciliation (2 October 2023) Thanksgiving Day (9 October 2023) Remembrance Day (13 November 2023) Christmas Day (25 December 2023) Boxing Day (26 December 2023)
Closures also occur on provincial and territorial holidays. Canada Post has a complete list online that includes provincial and territorial holidays specific holidays.
UPS and FedEx also have holiday closures, which may impact your shipping time.
Certain shipping boxes, envelopes, like those for flat rate shipping, can be obtained free of charge from any of these three carriers in store or online. You can also get free labels for your thermal printer from UPS and FedEx. If you order online, you'll need an account and you will may have to pay shipping and handling fees. See our page on getting shipping discounts for more ways to save money.
When preparing your item for shipment to Canada, ensure the box you choose is strong enough to support the contents. Larger boxes will have higher shipping charges, so try to find the best fitting box for your item.
Use cushioning material such as bubble wrap, packing peanuts, or tissue paper to protect your item. Use proper shipping take to secure seal the package.
FedEx and UPS provide packing services in store at an additional cost.
For retailers that don't ship to Canada, there are services such as US Global Mail which allows you to have a US address. They will then forward your mail or packages to your Canadian or other international address. Another service is MyUS.com which specialize in international shipping of US products. MyUS offers several membership options with varying benefits, including shipping discounts and US sales tax-free shopping. They process your purchases and assess duties and taxes that you will be charged for.