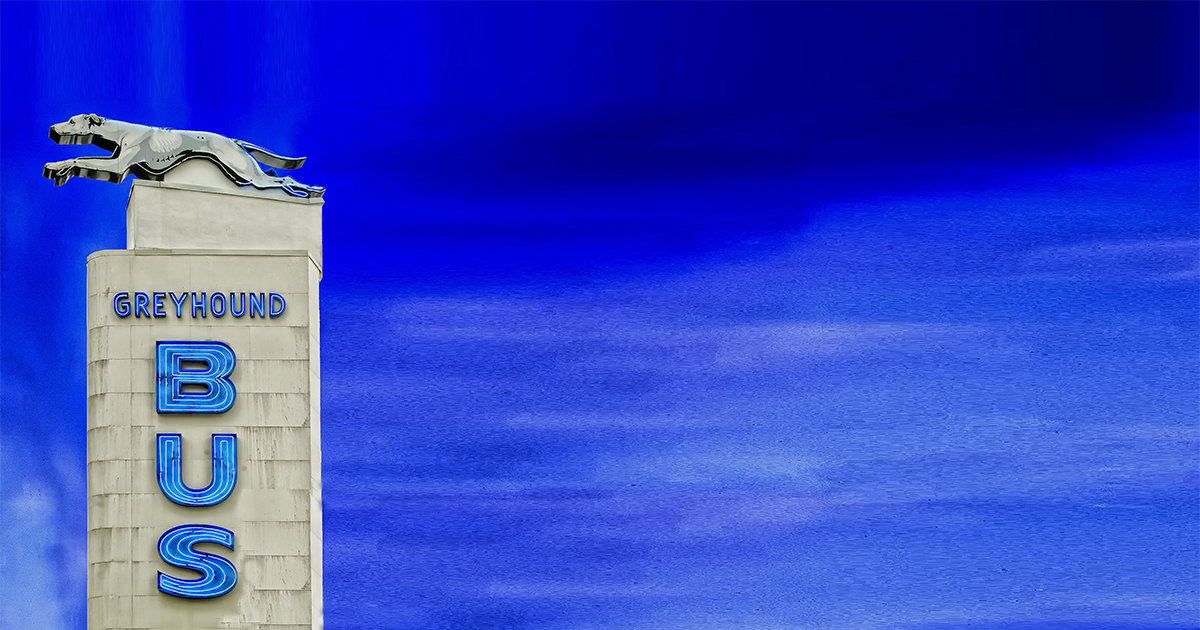 Greyhound Shipping: Great for large and low weight packages.
Updated:
•
Published:
•
6 min read
As of September 30, 2022, Greyhound ceased package shipping operations
If you need to ship large items, use uShip. This is a good option for cars, furniture, appliances, freight, and heavy equipment.
If you are looking for discounted shipping rates for USPS, FedEx and UPS, sign up to Shippo for free.
Stamps.com also offers discounted USPS and UPS rates. Get a special postage offer of $100 value at Stamps.com! Use Code STAMPS100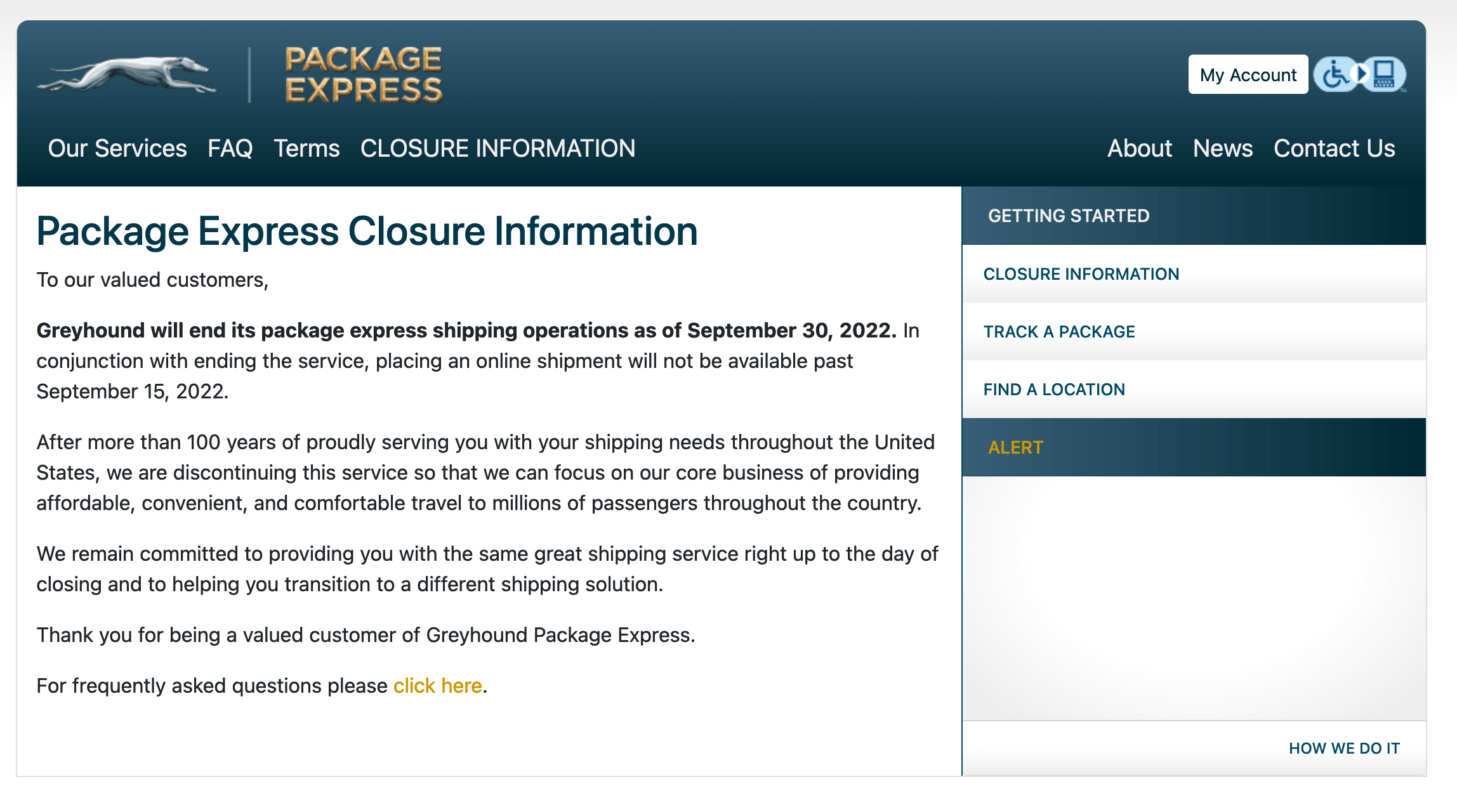 Shutdown information has been preserved on Archive.org as shipgreyhound.com no longer exists.
---
Using empty luggage space for your shipments
A lesser known alternative to FedEx and UPS shipping, Greyhound Shipping can be a reliable way to ship packages if your priority is cost over speed. Packages are shipped in the same busses that already a trusted and widely used transport service, so Americans have had no trouble using them for shipping as well.
The intercity bus service also has a fast shipping division called the Greyhound Package Express (GPX) that offers a range of shipping solutions to individuals and businesses.
The good news is that not only is Greyhound Shipping reliable, but it is affordable as well – it costs less than FedEx to ship similarly sized packages using this service. Additionally, they offer a 100% money-back guarantee that your shipment will arrive as scheduled
Here's the deal: Greyhound uses the space under their buses to haul packages, so they can't be too big.
The maximum weight allowed is 100 lbs. and the dimensions for the package should be no bigger than 29"x47"x82" to be able to fit under the bus.
Greyhound shipping is a cost-effective solution for small businesses that want to reach their customers all over the United States without having to pay the big business shipping costs.
The service operates 24 hours a day and throughout the year, serving more than 3,800 destinations locally, making it an affordable and convenient service.
GPX handles 2.2 Million Packages annually and offers online facilities that let you print, track, notify, and manage your deliveries easily anytime, anywhere.
Their rates vary by weight, distance, and service level. Greyhound shipping has three different packages. Let's have a look at these:
This is the fastest Greyhound Shipping service that delivers shipments within 400 miles of the pickup address. So if you have a small business with employees that live within several blocks of your place, this is the right shipping service for you.
This specialized service delivers door-to-door, so you have nothing to worry about. Just make sure that the parcel is ready to be picked up when they show up on your door because timing is critical to getting it right.
This is because the Direct Drive service uses expertly timed, dedicated vehicles that travel pre-planned routes to deliver shipments as fast as possible.
If your deliveries aren't time-sensitive, then the Standard Service by Greyhound Shipping should serve you well. They'll ship your package when there's enough space available on their buses.
You can check the estimated transit times on this PDF or on their website to know how long it will take for your parcel to arrive at its destination. Usually though, it takes two days for it to get to its destination within 125 miles of the pickup address – it might take longer for larger packages.
Now, if you have time-critical shipments within 1300 miles of your location – this is the right service for you.
It comes with Greyhound's guarantee that your shipment will arrive at its destination on time, or you get your money back.
Additionally, it's a door-to-door service with a counter-to-counter variation so you can send your parcel however you want. It also includes after-hour pickups and deliveries, so you know your package will get there ASAP.
Greyhound Package Express can customize its services to meet the unique shipping needs of your business. Here are a few alternative solutions they offer:
GPX Bin Lease: If you have recurring shipping needs, schedule them with the Bin Lease that offers a dedicated space for customers with few yet regular shipments.
GPX Courier: If you ship within your city several times a day, this is the right service for you. It offers 2-hour and 4-hour deliveries that you can book online. The in-city courier service lets you take advantage of the vast network of GPX-owned subsidiaries and affiliate couriers across the United States.
GPX Warehouse: If you are a budding business, why not take advantage of the abundant terminal space available with GPX? Use this space for product storage, fulfillment, and distribution of your orders.
If there is a Greyhound station near you, it'll have a separate counter for processing GPX shipments. In case yours doesn't, it's okay to bring it to the ticket counter, and the representative will process the shipment for you.
Greyhound Shipping centers and terminals are usually open 24 hours a day, but if your local offices close after work hours, visit the Greyhound location page for information on operating hours.
Or you could go here to order shipping online or to get a quote.
Yes, it is. You'll get a shipment tracking number that you can then share with the recipient of the package as well. If you provide the recipient's phone number when booking the service, they'll be informed of it as well.
If you book the Priority Service, you'll get additional tracking details to ensure your complete peace of mind.
Go to the 'Track A Package' on the GPX website and input the tracking number to find out where your package is.
Not only does Greyhound offer low rates on shipping, but also, let their customers buy shipping supplies through Staples EasyPrint. Furthermore, you can receive up to 50% discount from Greyhound shipping when ordering online instead of over the phone or in person.
They also offer different concessions and freebies for veterans, the military, and students – they can save up to 25% on a shipment.
If you are shipping six or more packages at a time, you might be eligible for up to 50% off.